Escorted and Self-Guided Family History Tours of Kent
I can put together an itinerary for your tour of the villages, churches, gravestones, streets and houses etc. associated with your ancestors in Kent. These tours can either be escorted by myself or self-guided.
Escorted tours
Using information you supply, or the results of research I undertake for you, I would compile an itinerary aimed at visiting the sites connected with your Kentish ancestors. These tours can be for up to three or four people (if taken in my own car) or more (a hired vehicle and possibly a driver would be needed, depending on numbers) and of any duration, from one day upwards.
I would meet you, or arrange to have you met, at the airport, or meet you at a local train or coach station, drive you to and escort you around the sites and provide information about the churches, villages etc. we will be visiting. I can organise access to churches which are usually closed and can arrange overnight accommodation as well if required.
Prices: from £250 per day on tour (for any number of people), plus:
Planning and any preparatory travelling time at £30.00 per hour; and
Any incidental expenses (for example, accommodation, petrol, car parking charges, telephone calls, photocopying, postage).
Self-guided tours
As for guided tours, except that you would drive yourself, or take buses or trains, to the villages, churches etc. I would compile your personalised itinerary, supply information, including train and bus times if appropriate, arrange for churches to be opened, book accommodation etc. and also car hire if required.
Prices: Planning and any preparatory travelling time at £30.00 per hour, plus any incidental expenses (for example, car hire, accommodation, telephone calls, photocopying, postage).
Please Email me to discuss your plans at: grkentgen@aol.com

Testimonials
'I am still excited about our visit and tour ... I wanted to express my gratitude for your professional efforts before and during the guided and escorted days with you... We were pleased with your planning, driving, contacts with churchwardens, the hotel ...your in-depth personal knowledge of the villages and churches saved valuable travel time ...I will look forward to scheduling another enjoyable and rewarding genealogical and historical guided tour with you'. William Carr, Fresno, California.
'I cannot thank you enough for all the preparation work you did. You met all my expectations for the trip and it was a pleasure to finally meet you ....I meant to tell you, you are a very good driver'. Tom Wise, Florida.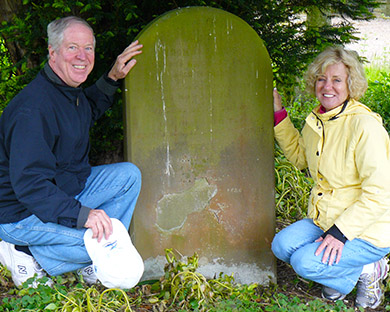 Bill and Wincy Carr at the gravestone of Bill's great-great grandparents Thomas and Charlotte Harris, in Boughton under Blean churchyard, June 2013.


---
Email: grkentgen@aol.com
&copy Copyright 2000 - 2023 Gillian Rickard
Updated August 2023