Who am I?
I have always been interested in family history. As a child my parents were amazed to find me drawing up family trees and constructing imaginary families. From childhood also I have had a strong interest in all types of history, both written and unwritten - from geology, through archaeology, to family and local history. It was while I was at University that I was first introduced to historical documents. My final year thesis involved the use of 16th and 17th century documents. After leaving University I started to trace my own ancestry and, after a spell working for the Archaeology Unit in Northamptonshire, where during my spare time I transcribed several parish registers, I moved to Kent and took up professional family history research. Between 1983 and 1986 I took the three-year Diploma in (Kent) Local History at the University here in Canterbury, achieving a Distinction for my final year dissertation on a local history topic.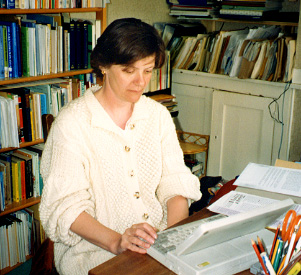 Gillian Rickard at work
Contact information:
Miss G.Rickard, Kent, England
Please contact me by email initially
Email: grkentgen@aol.com.
&copy Copyright 2000 - 2023 Gillian Rickard
Web site design and production by Steve Carter
Updated August 2023